IRC On The Media
17/02/2022
Produsen Ban PT Gajah Tunggal Tbk, Raih The Top 100 Most Valuable and Strongest Indonesian Brands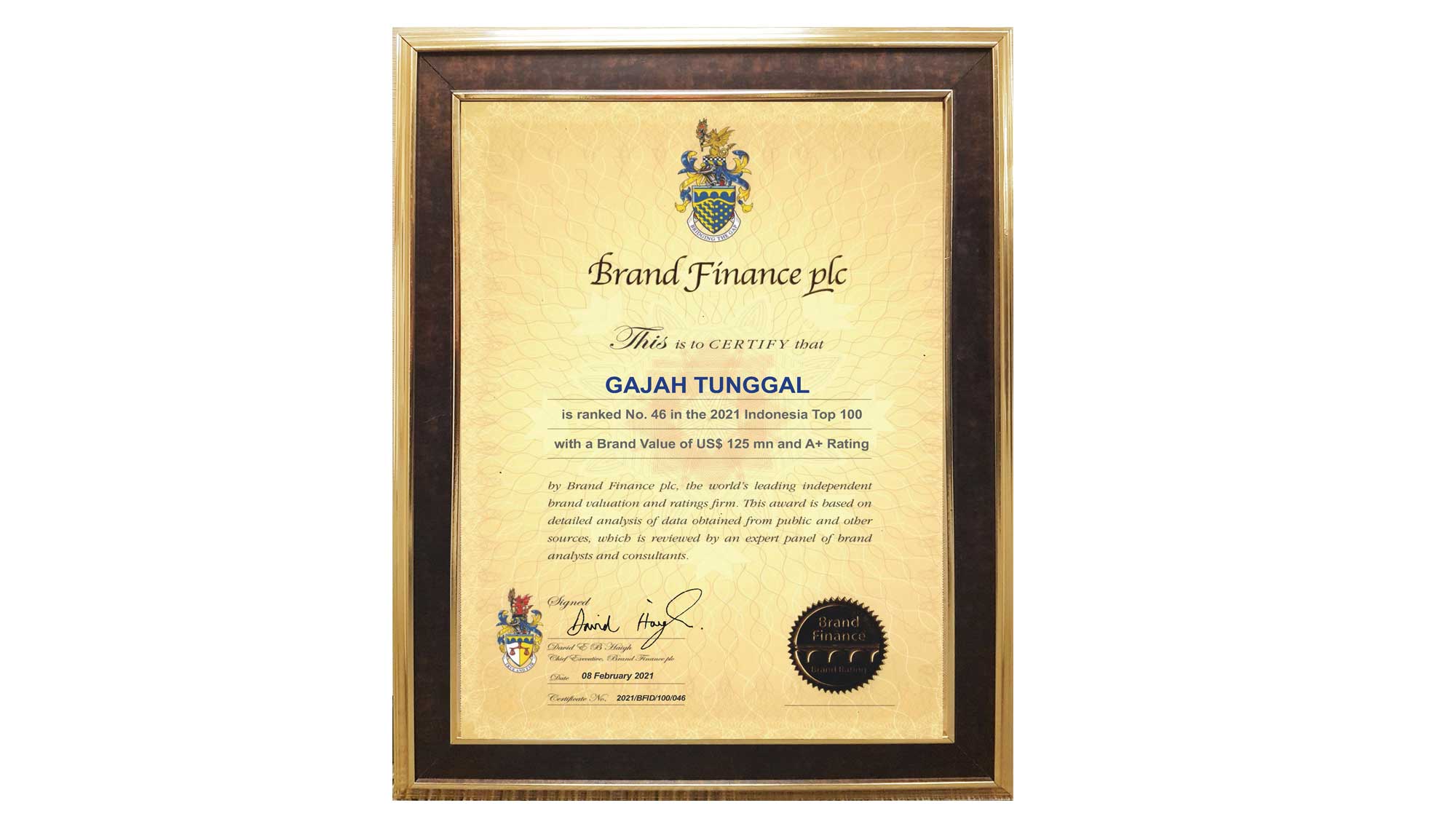 Produsen ban asal Indonesia, PT Gajah Tunggal sukses masuk dalam jajaran 'The Top 100 Most Valuable and Strongest Indonesian Brands 2021' yang dilansir konsultan penilaian merek independen dunia, Brand Finance. "Selamat kepada PT. Gajah Tunggal Tbk, meraih prestasi pada kategori 'Top 100 Indonesian Most Valuable Brand GOLD'. Semoga di tahun 2022 Brand Gajah Tunggal mencapai kinerja yang lebih baik dalam mendukung pertumbuhan bisnis PT Gajah Tunggal Tbk dan mampu bersaing dengan perusahaan-perusahaan kelas dunia yang masuk dalam peringkat Brand Finance Global 500 Most Valuable Brands," kata Jimmy Halim, Managing Director Brand Finance.
Dalam penganugerahan yang digelar secara virtual, Head of Division Marketing PT Gajah Tunggal Tbk, Leonard Gozali menyatakan terima kasih kepada Brand Finance Indonesia untuk market researchnya dan juga kepada pelanggan setia produk Gajah Tunggal. Menurut Leonard, pelanggan selalu menjadi prioritas. Karena pelangganlah pihaknya mampu melakukan berbagai hal seperti riset dengan tujuan meningkatkan kualitas produk ban dalam memenuhi kebutuhan konsumen.
"Melalui 4 produk Gajah Tunggal, yaitu GT Radial (PCR), IRC (MC), GITI (TBR) dan Gajah Tunggal (BIAS) kami berhasil menjadi ban yang dipercaya oleh ATPM sebagai ban OEM dan di export ke lebih dari 90 negara di dunia," jelas Leonard kepada media, Senin (14/2/2022). Tak cuma itu. Leonard juga menawarkan kemudahan bagi masyarakat dalam mendapatkan produk dan layanan mereka. "Saat ini bisa melalui aplikasi online yaitu Speedwork Autocare dan secara offline melalui official retail store kami dengan nama Tirezone & Tirexpress untuk ban mobil serta MotoXpress untuk ban motor yang jaringan ritel ini sudah tersebar di berbagai wilayah Indonesia," tutur Leonard.
Sumber: mediaindonesia.com